<! - Default Page Wrapper Variant -->
100 Together: Book Launch & Bike Ride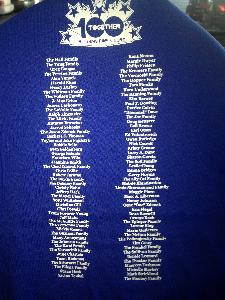 Photo Pages
Team Fundraising Goal: $25,000.00
Total Number of Gifts: 20
Total Value of Gifts: $2,900.00
Please bookmark this page.
Recent Donors
Margaret Bavaro
Nancy & Jake Johnson
PSM Wealth Management
Taylor Fujihara
Jeff Main
Mr. Gerry Hoyme
Laura, Dennis and the Boys
Jason & Lisa Zdenek
Don Hilario
Aviva, Ryan and Matthew

Full Donor List
Overview
This the 7th year of doing fundraisers for the Jonsson Comprehensive Cancer Center. Each summer, I do an endurance event/fundraiser - "For June in June" - in honor of my sister June. She was treated and cared for by the great people at the JCCC, and to support their research and care programs, I attempt to raise awareness and donations that directly support the vital work they do. This year, I will be doing a long bike ride, in conjunction with launching my new book, "Winning in the Middle of the Pack: Realizing True Success in Life and Business". In addition to direct donations, a portion of each book sold will be donated to the JCCF.
The Book Launch
"Winning in the Middle of the Pack: Realizing True Success in Life and in Business" is scheduled to launch on June 25th, 2014. Through stories told about lessons learned in business, life and endurance athletics, the book discusses the concept of "the middle of the pack" - where we do so much for our families, employers, friends, community and children, and yet we don't focus on living life for ourselves. By allowing yourself to do the things that you really want to do, you can be more successful at work, at home, and in life. This book will help guide you through the changes that need to be made and the hurdles that you will need to overcome during that transformation. My goal is to sell 10,000 copies online during the 48 hours of my event. My website is live, so please go to http://www.winninginthemiddle.com to see more and to purchase the book!
The Bike Ride
Also on June 25th, 2014, at 3:00pm, I will take off from Manhattan Beach, California and ride my bike to Las Vegas, Nevada, via Joshua Tree National Park. I plan to complete this 350-mile journey - climbing over 12,000 ft. of elevation, enduring temperatures in the 115 degree range - in less than 48 hours. The opportunity to combine a challenging adventure, the launching of my new book, and a fundraiser that supports such a great organization, is a true gift.
Guest Book
If you would like, you can add your name and a short message to our Guest Book. Thank you.

Sign the Guest Book